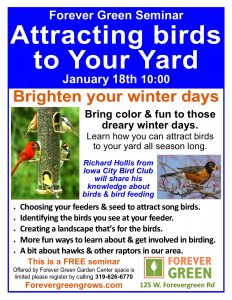 January 18 10:00
Brighten your winter days with an unending source of color and fun from our feathered friends. Learn how you can attract birds to your yard all season long.
If you would like to start feeding birds or have tried with limited success this is seminar for you.
* Choosing your feeders & seed to attract song birds.
* Identifying the birds you see at your feeder.
* Creating a landscape that is for the birds.
* More fun ways to learn & get involved in birding.
* A bit about hawks & other raptors in our area.
Rick Hollis started watching and learning about birds as a child and loves sharing his passion with others. Rick was the past president of the Iowa City Bird Club and served on the board of the Iowa Ornithologists Union.
This is a FREE seminar offered by Forever Green Garden Center space is limited please register by
calling 319-626-6770
or go to Forever Green's Facebook  event